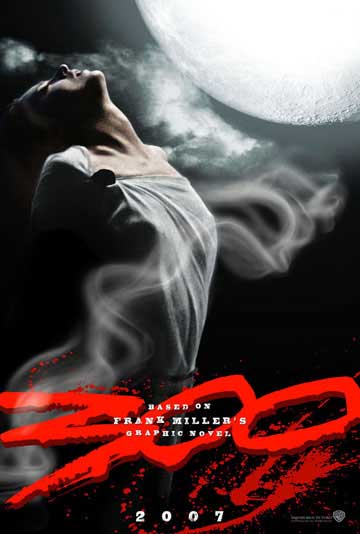 Mungkin film ini adalah salah satu film kolosal yang sedang ramai dibicarakan orang-orang dan termasuk beberapa teman gw, bahkan ada temen gw yang bilang kalau film ini lebih keren dari Trilogi Lord of the Ring. Dengan adanya beberapa pendapat tentang film ini, gw merasa penasaran banget pengen nonton, tapi karena satu dan lain hal niat gw untuk nonton di bioskop masih belum terlaksana.Tapi tadi malem setelah maen bulutangkis di daerah Sawo, temen gw nyeletuk kalau dia punya 300 yang sudah ori, gambar dan teksnya sudah bagus banget.
Wah…wah…pucuk dicinta ulam tiba, hasrat hati sudah bergelora ingin nonton film ini akhirnya bisa juga, setelah maen bulutangkis sekitar jam 11-an malem, gw dan temen2 gw balik kekosan terus istirahat sebentar terus mandi terus pesen makan dan kopi susu deh setelah itu baru nongkron di depan tv :D.
300 menurut gw dari segi efek gambar dan efek suara keren banget dan gw acungin jempol gw deh(2 jempol tangan dan 2 jempol kali), tapi gw agak sedikit kurang sreg dengan adanya "monster-monster" didalam pasukan persia yang rasanya terlalu berlebihan, dan pertarungan yang lebih mengarah pada gerakan-gerakan bela diri jaman modern tapi hal ini tidak menjadi masalah yang berarti tapi kalau nontonnya di bioskop kayaknya bakalan lebih seru lagi….btw di Detos 21 udah maen belum ya 😛 ?
gambar diambil dari: http://www.joblo.com